Bible Study Group (June 19, 2001)
     hosted by David Ho, Cell Group Leader
| | |
| --- | --- |
| David Ho invited Doug and I to share at his Bible Study.  Doug ministered the Word and I sang a song and shared.  David translated for us.  David was the fruit of Doug's evangelism while in college in Tampa, Florida.  They became best friends.  Within 6 months of David returning to Hong Kong, his mother (shown on right) gave her life to Jesus.  Doug now has children and grand-children in the Lord in Hong Kong! | |

| | | |
| --- | --- | --- |
| |   | |
| Doug, David, and his Bible Study cell group in a room in their newly purchased church. |   | He we are at a Shoney's-type restaurant fellowshipping and eating a little food, late at night. |

| | | |
| --- | --- | --- |
| | Traveling from Hong Kong back to the USA, we stopped over for a day in Seoul, Korea.  The Lord opened the door for us to have a gentleman take us to the world's largest church: Yoido Full Gospel Church.  It has about 750,000 members connected to the pastor David Youngi Cho.  The main sanctuary holds about 15,000 people and they hold 7 services each Sunday.  Unhok Chong is one of elders at the church.  He was so gracious and kind to take us to Prayer Mountain with his translator, Daniel. | Daniel (left), us, Unhok Chong (right) |

Shoes located outside the door of the closet area indicated to us that a faithful prayer warrior was crying out to God inside the small and modest room.

This huge rock signals the entrance into the International Prayer & Fasting Mountain, located about 1 hour north of Seoul, Korea.  The many small prayer closets were an interesting sight!

We decided to see first-hand what the modest atmosphere is like inside a prayer closet on Prayer Mountain!  The floors are made of hard wooden boards with 1/2 inch gaps between them.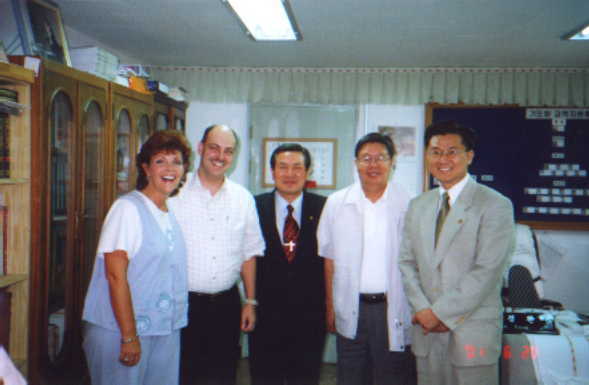 Pictured with us is Rev. Kyung - Hwan Kwon (one of the leading pastors for Prayer Mountain), Unhok Chong (an elder at Yoido Full Gospel Church), and Daniel Park (the translator for the Reverend).  They explained the history of Prayer Mountain.