About Marsha
Prior to my birth in Africa, my father's first convert announced to him that he was praying God would give my father a crooked arm. Dad was astonished at first but pleased when he learned that a crooked arm meant an arm to hold his own child. Dad was equally astonished nine months from that date when I came on the scene. My childhood in Africa, though simple, never held a dull moment. The first four years of my life were spent in a village of ten thousand blacks. I grew up believing that God had created thousands of blacks and the three Lovicks were the only whites in the world. My greatest desire was to be black and wear beads. I was always trying to convince my mother how not wearing clothes would cut down on the laundry.


Missionaries Dr. Bill & Margaret Lovick
with baby Marsha.
(Bassari, West Africa, 1961)

Even as a child I loved people and I would entertain the natives with songs from "Mary Poppins" and "The Chipmunks," then I'd tell a Bible story and have an altar call. It didn't take me long to learn that music was a great way to communicate with people.

As a teenager my family moved to Brussels, Belgium and my fluency in French came in handy. Europe was a lot like the U.S., so in 1977 when my father accepted a pastorate in Florida, I was prepared for the change. From this point on I knew that God hadn't just given me a talent, He had given me a ministry. In 1981, I settled in Birmingham, Alabama. It wasn't long after that I began to feel the Lord nudge me to step out and fulfill the ministry He had called me to. With the encouragement of my friends and family, I have been traveling and sharing in the interest of missions since January 1985. I am thankful for the people around the world He is enabling me to touch. God asks each for our lives, in one way or another, and I'm glad that God is faithful just like the song says, "For every little thing we do, He gives so much in return, if our hearts desire is to do all He asks."
| | |
| --- | --- |
| | |
Background

Born in Tamale, Ghana, to missionary parents, Marsha has spent most of her life in Africa.

Her fluency in seven languages is second only to her extraordinary ability to communicate with people. Her vivacious personality coupled with the anointing of the Holy Spirit transcends all barriers. As a wife and mother, she will win your heart with her humor and honesty. You will be thrilled at the accounts of God's incredible provision for Marsha and her family while in Africa, and deeply moved by her testimony of the miracle birth and healing of her son Isaac.




Itinerating in the U.S. on the way back to the Congo in 1970

---

Marsha's father preached many sermons many years ago as a pastor and as a missionary

Currently

Marsha resides in Tampa, Florida with her husband Doug and her son Isaac (and her poodle Peanut). Marsha and Doug have recently adopted a young boy from the country of Kazakhstan, Dimitri. She still has a heart for missions, traveling overseas on occasions. She speaks almost every week as the Lord opens the doors. Music also plays a large part in her ministry. Her music is contemporary yet traditional with a very clear message pointing to Jesus. Marsha may make you laugh or cry, but in everything she does she will lead you to the feet of Jesus, and when touched by Him, you will never be the same!

From October 2007 to the end of 2012, Marsha served as the Women's Ministry Director for Peninsular Florida's district of the Assemblies of God.
Mom's Book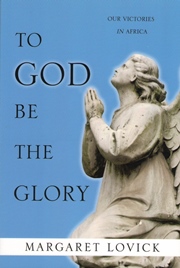 Husband's Book