"Marsha is a chosen vessel of God who is anointed to encourage and inspire the Body of Christ. With her wonderful sense of humor she is able to bring the truth of the Gospel home to her audience, both men and women alike. She continues to be a blessing wherever God leads her to minister."

Pastor Ed Russo
Senior Pastor, Victorious Life Church
Wesley Chapel, Florida

"Marsha's ministry is so powerfully anointed, our church and our people are truly lifted to new levels of God's presence and glory each time she comes.... Marsha is truly a mighty woman of God!"

Pastors Ron & Bron Smith

First Independent Methodist Church

Eatonton, GA

Their actual letter can be seen below: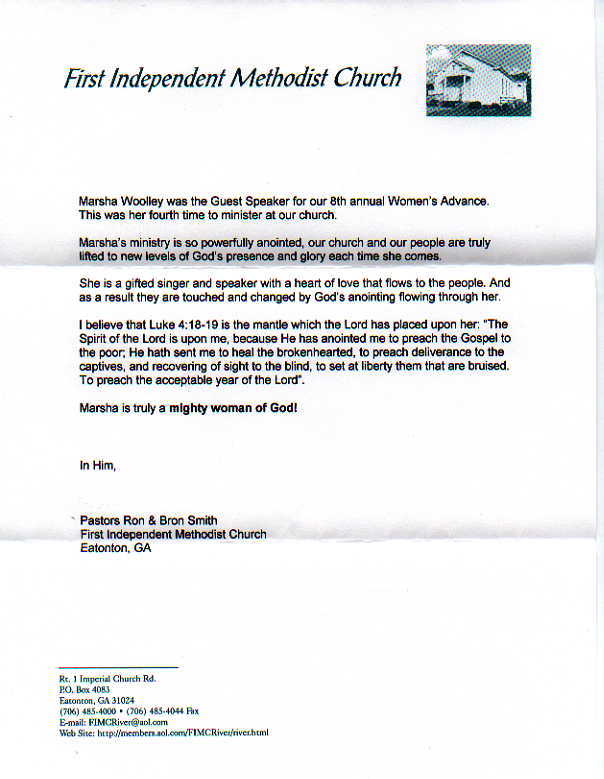 "Our Lord has given the body of Christ a precious gift in the ministry of Marsha Woolley. The Spirit of God ministered powerfully through Marsha in bringing a pertinent word to our body at large and to individual members in particular, and thereby encouraging and building up our part of the body of Christ...."


Pastor Clifton Payne and his wife Melanie
Trussville Community Church
Trussville, Alabama

Their actual letter can be seen below: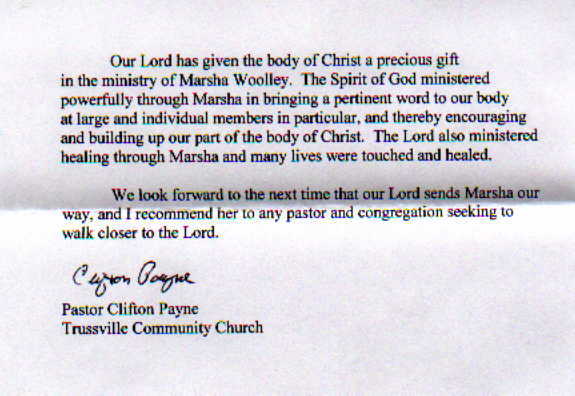 "Marsha Woolley is an anointed speaker who combines intriguing real life stories with Biblical truths and sprinkles them with doses of humor. Her prayer ministry at the end is often prophetic and always encouraging."


Douglas Woolley Husband to Marsha Woolley
Tampa, FL

Pictures and Bios of Marsha for brochures are available.